On the northwestern parts of Borneo Island lies a Malaysian state which bears a moniker that is as mysterious as it is true. Sarawak, "the Land of the Hornbills", brims with Mother Nature's beauty and bounty; after all, it boasts having the largest forest cover in Malaysia. Nature escapes in Sarawak have long taken on an "endless" character — there are so many to choose from, you wouldn't even know where to begin!
Source: https://www.tripzilla.my/sarawak-natural-attractions/8332
Choose Sarawak the next time you need a break from city life
With 2020 being the year of cancelled travel plans and home quarantine, it's only natural to feel a strong pining for the great outdoors. We're sure you miss mountaintop views; the wind in your hair; sand in between your toes; that light mist of seawater mingling with the warmth that fair tropical weather brings.
Luckily for you, Sarawak is only a few hours (or minutes!) away from home. Plus, outdoor adventures quench our thirst for travel while allowing us to adhere to COVID-19 safety protocols. So go ahead, take a peek into your next quest. These nature escapes in Sarawak are gateways to otherworldly realms that provide respite from the city's endless thrum — from reefs to ridges and all the vast jungles in between.
Top nature escapes in Sarawak
1. Mulu National Park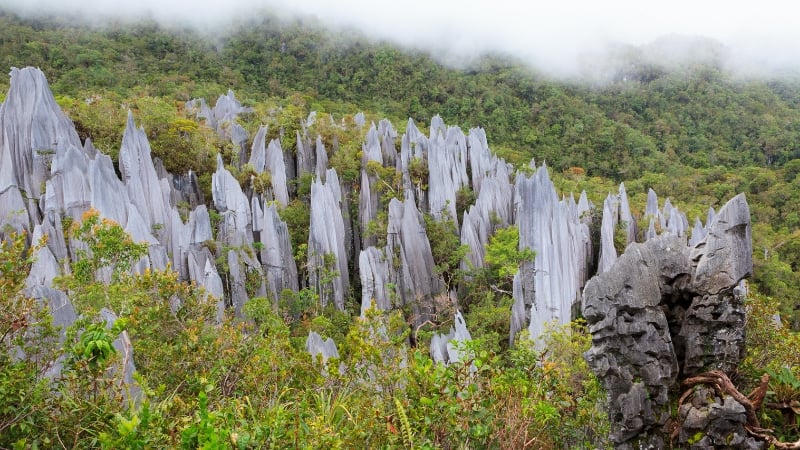 We begin with what is perhaps the most iconic of all nature parks in Sarawak, the Mulu National Park in Miri. Officially known as the Gunung Mulu National Park, this entire stretch of rainforest is a UNESCO world heritage site that took over 60 million years to evolve into what it is today. What you'll witness now is nothing short of a natural spectacle: caves, cliffs, and jungle trails nestled in the heart of Sarawak's densest greenery.
Although there are many things to keep an eye out for when visiting Mulu National Park, some of its features are more popular than others. The park houses several caves and cave systems; one of its biggest draws is adventure caving. Sign up for a guided tour of Deer Cave at sundown to catch its bat colony's daily exodus. The more adventurous may look forward to the Clearwater Cave System, one of the world's largest cave systems! For this reason, exploring the ins and outs of the Clearwater Cave System is reserved for those with previous caving experience.
If you're of apt skill, another extreme activity you can brave is the steep, challenging ascent to the Pinnacles' jagged peaks. It's quite breathtaking, literally and figuratively. Beginners need not feel left out, of course. Hiking along Mulu National Park's trails is just as rewarding. Fall in love with unique flora along the Mulu Botanical Heritage Trail or spend hours winding through the Paku Valley Loop, where you can opt for a quiet picnic amid nature.
2. Semenggoh Wildlife Reserves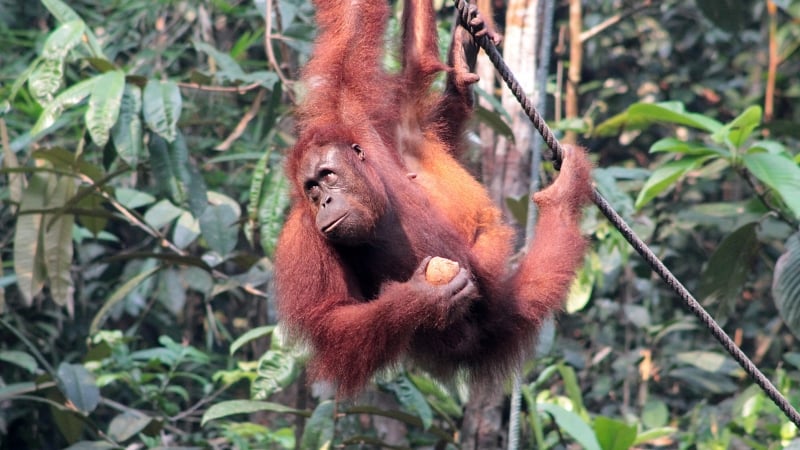 The Land of the Hornbills isn't just a haven for feathered friends. No surprise there as Sarawak's rainforests overflow with rich biodiversity! At the Semenggoh Wildlife Reserves, you get the rare opportunity to observe Borneo's endangered apes — the Orangutans.
Fun fact: Did you know that Orangutans were once widespread across Southeast Asia and some parts of China? Now, these endangered great apes can only be seen in parts of Sumatra and Borneo. To see them in their natural habitat is a wildlife encounter you shouldn't pass up!
Tagged "the place where orangutans roam free", Semenggoh Wildlife Reserves is home to rehabilitated animals that were orphaned, injured, or rescued from captivity and illegal trade. With its initial rescues, the numbers at Semenggoh Wildlife Reserves stabilised to create what is now a healthy population of Orangutans that live out the rest of their years in jungle bliss.
When they're not in protected areas of Semenggoh Wildlife Reserves, they freely head to a centre within the same complex so that guests can watch them feed from a distance. Think of them as ambassadors of a great ape species that the Sarawak Forestry is fighting hard to protect! A visit to Semenggoh Wildlife Reserves isn't only a Sarawakian nature escape that's conveniently about 30 minutes from Kuching; it's also your chance to support Orangutan conservation efforts. What's more, you'll get to spot other Sarawakian flora and fauna during your trip.
3. Santubong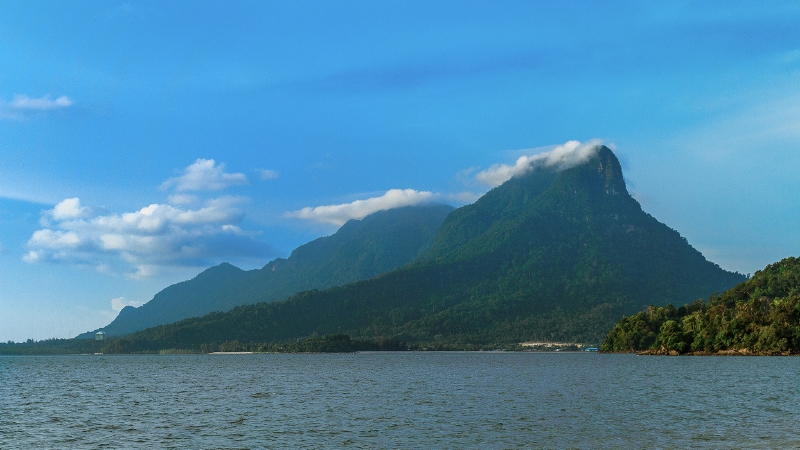 Another nature escape not far from Sarawak's capital city, Mount Santubong is Kuching's tallest peak at 810 metres above sea level! The region's intangible heritage shrouds this sight with mystical allure; legend has it that the mountain is actually a princess (named Santubong), who was turned into a towering landmass as punishment from the heavens. Two other characters figure prominently in the story: her sister, Princess Sejinjang, who was transformed into Pulau Kera and Prince Serapi, who was turned into Mount Serapi. We'll leave it to you to find out what exactly transpired between these sisters!
Fun fact: The legend of Mount Santubong inspired the famous Sarawakian folksong, "Puteri Santubong". It narrates what happened between sisters Santubong and Sejinjang when the two fought over the affections of Prince Serapi.
Folklore aside, Santubong makes for the perfect trek for holidaymakers of all climbing levels. Four trails await at the Santubong Nature Reserve — one of which is an easy one-hour hike to Santubong Waterfalls. Climbing up the peak, on the other hand, takes around four hours. It will take another three to four hours to make the descent, which means this alternative is a good way to make the most of your Santubong excursion. Just be sure you're conditioned to get through thick forests and uneven terrain peppered with various Sarawakian species.
Did we mention that Santubong offers the ideal sea-to-summit trip? The island on which the mountain stands features Damai Beach, which means you're always just a leisurely walk away from splashing around in the ocean. When in Damai Beach, another cultural affair awaits: Here lies the entrance to Sarawak Cultural Village. Talk about a full day at Santubong!
4. Bako National Park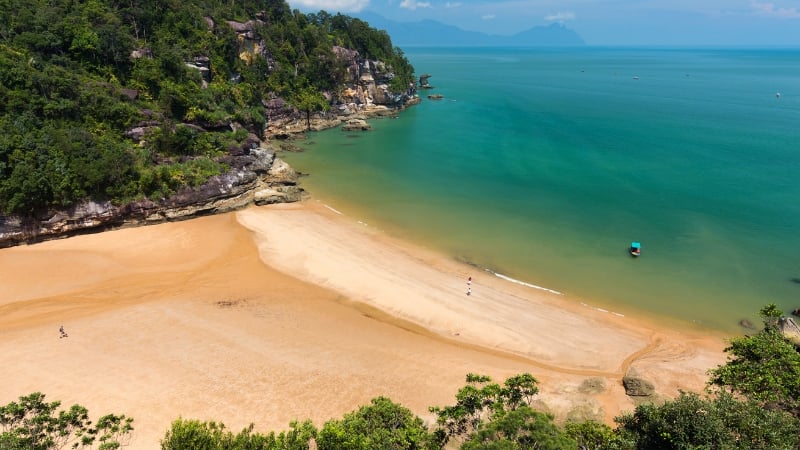 Let's take a break from Kuching and head north. Situated in Miri, a coastal centre, Bako National Park draws adventurers with a diverse landscape that's as raw and natural as it gets. Your nature escape begins upon arrival at a sandy shore, which is your entryway to Sarawak's oldest national park. Bako National Park was declared a protected nature reserve in 1957 and has since served as a haven for Sarawakian wildlife such as proboscis monkeys, bearded pigs, and flying lemurs.
Here, there are 16 colour-coded trails that can take you through easy strolls amid lush greenery or full-blown jungle hikes that make you break a sweat. The choice is yours, but we're certain you'll be satisfied either way. Aside from treks, you can also go island hopping and camping! If you want to get a taste of local life, you can even make Bako Village your jump-off point; from there, the park is only a 30-minute boat ride away.
Fun fact: Animal lovers are in for a treat on their trip to Bako National Park. We kid you not — you're guaranteed at least one wildlife sighting with every visit! Just make sure to keep your distance and respect the critters' natural habitat.
5. Bengoh Range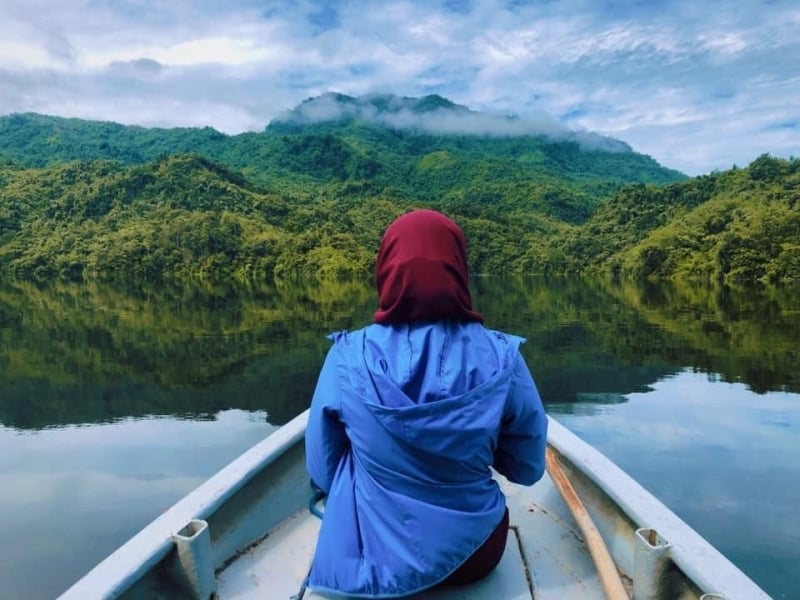 We've touched on the iconic, now it's time to venture into the lesser-known. When it comes to the Bengoh Range, the term underrated isn't just a buzzword. Not many people know about this nature escape in Sarawak that borders Kalimantan, the Indonesian parts of Borneo Island. Two word come to mind when confronted by the wildernesses of Bengoh Range: Jurassic Park.
Why, you ask? From its forest trails to the four waterfalls you can make a pitstop of at Bengoh, scenes are so pristine and untouched, they look almost lost in time.
Travel tip: Since the place is pretty overlooked, don't expect fancy stays and marked paths. You can trek through Bengoh Range in a day, but just make sure you hire a tour guide who can make sure you don't get lost!
A few things you can't miss if you choose to go with this unique Sarawakian nature escape: Bengoh's four waterfalls (Curtain Falls, Koring Falls, Pe'an Falls, and Susung Falls) and the view with a ticketed trip to secluded Kampung Sting (also known as "Village Above the Clouds). Kampung Sting offers a perch from which you can enjoy the vista of Bengoh Dam and Bengoh Range. Aside from this, the resettled Bidayuh village gives guests a glimpse into indigenous life in Sarawak.
6. Kubah National Park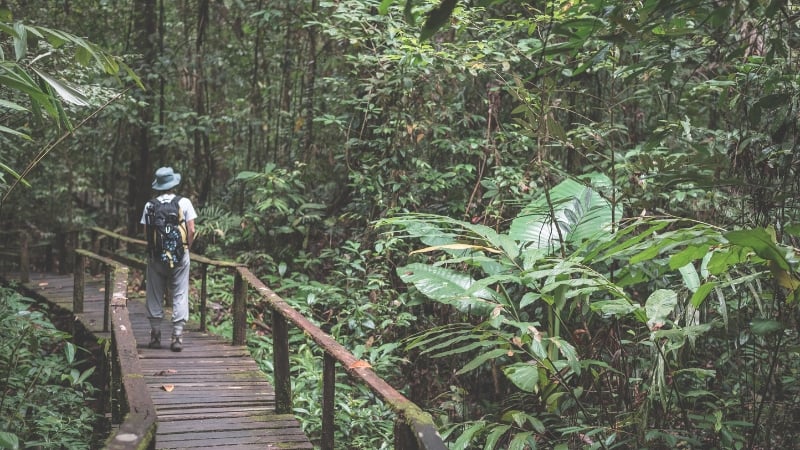 If Bako National Park wins in wildlife encounters, Kubah National Park steals the show with its rare and beautiful flora. Its wild orchids especially tempt botanical enthusiasts from all over! You experience heavily relies on the jungle trail you choose to take on. Beginners need not worry; some paths have quite gentle slopes, plus a few actually let you walk on the paved Gunung Serapi Road so going guide-free won't be a problem.
Experienced climbers can commit to more challenging trails, though, like the Gunung Serapi Summit Trail, which allows you to capture spectacular views from a mountaintop. This can take about four hours one-way, depending on your speed and agility. Oh, and if you're wondering why Gunung Serapi sounds so familiar, backtrack to #3. Remember Princess Santubong? Serapi is the prince she fell in love with!
Fun fact: Here, you'll have six trails to choose from. Most trails at Kubah National Park only take two hours or less! There is even a showcase trail called Palmetum that will only consume 30 minutes of your trip. For this reason, Kubah National Park is a hit to local daytrippers. If you can spare a full day, though, we highly recommend the longer trails as it takes you deeper into Kubah's picturesque rainforests.
The longer the trail, the more likely you'll witness the parks' diverse terrain, which features streams, pools, and waterfalls. Bako National Park is also a go-to for bird watching. If you're lucky, you might even get to spot the iconic hornbill. Even when the shy creatures don't make an appearance, you can still admire the sandstone mountains that make up Bako National Park's photogenic vista: Gunung Serapi, Gunung Selang, and Gunung Sendok.
7. Kuching Wetlands National Park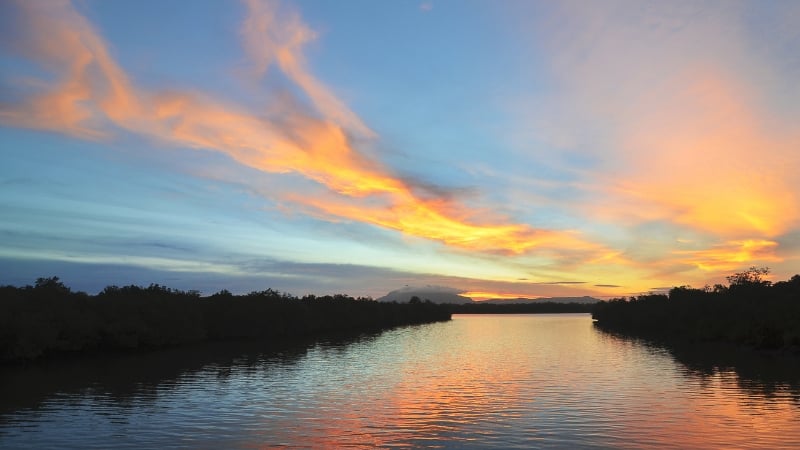 In terms of biodiversity conservation, the Borneo wetlands hold international importance. These areas host extensive waterways adorned with mangrove forests, which are in turn home to a number of impressive species such as Irrawady dolphins, estuarine crocodiles, long-tailed macaques, to name a few. See all of these and more when you plan a nature trip to Kuching Wetlands National Park!
Since you'll be admiring saline mangrove systems, the only way to explore Kuching Wetlands National Park is by embarking on a cruise. Once aboard, your wetlands adventure begins. If you ask us, the ideal time to do this tour would be nearer sundown, when you can start off savouring a fiery sunset and cap the cruise with a floating dinner. If the weather is fair, you'll also get to enjoy mother nature's light show — fireflies flitting across the night sky.
Fun fact: The Kuching Wetlands National Park are among those sites that were once part of a bigger nature park called the Sarawak Mangrove Forest Reserve. These estuaries of the rivers Sibu Laut and Salak have been protected since the 1920s.
8. Kampung Panchor (Hot Springs)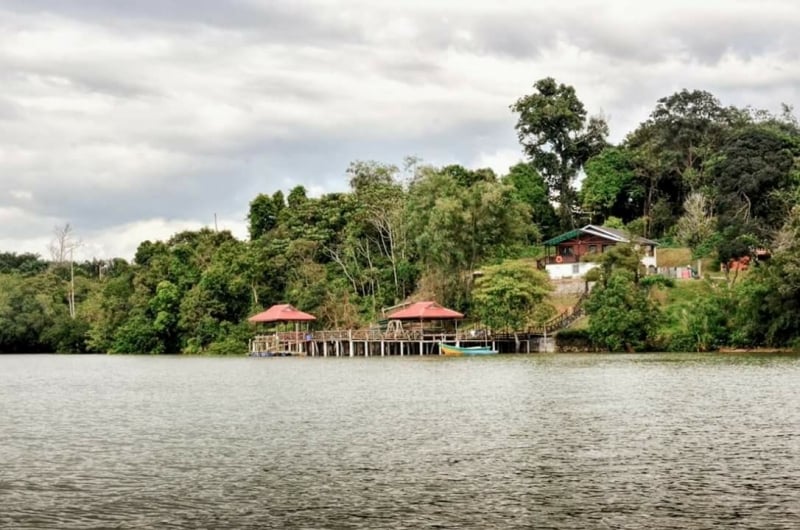 There are many nature escapes in Sarawak, but not all invite you to linger and soak your worries away. The Kampung Panchor Hot Springs experience is pretty straightforward. There are changing rooms, toilets, and several communal soaking pools filled with mineral-rich hot spring water.
With temperatures averaging 42°C, most travellers find that spending some time in Kampung Panchor effectively relieves muscle aches. Locals frequent the place for its health benefits, too. People will usually tell you about a village headman who soaked here daily for six months, eventually bringing sweet relief from a heart condition that has bothered him for the longest time.
Travel tip: Bring your own toiletries and towels when visiting Kampung Panchor so you can dry off and even take a shower in the stalls.
The cherry on top? Kampung Panchor sits right in the heart of a forest. Close your eyes while enveloped in warmth, and you'll hear the jungle's sweet cacophony! Or make a neat photo opp out of the experience and enjoy the verdant scenery that surrounds you.
9. Fairy Cave and Wind Cave at Bau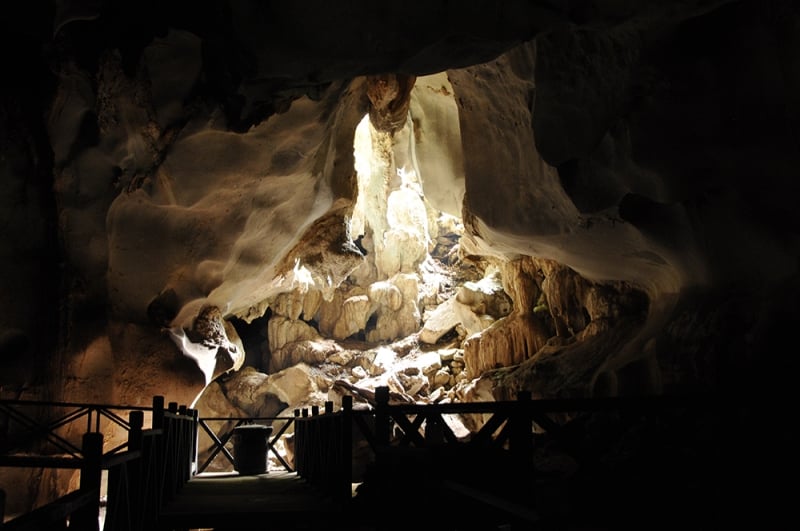 You'll find that nature escapes in Sarawak often involve some cavernous spectacle! Here are more to add to your list of cave must-sees: the Fairy and Wind caves in Bau, a historical town known for mining, and well, these two limestone caves.
From its name alone, you can already tell that there are stories waiting to be unravelled at the Fairy Cave. Peculiar stalagmite formations have taken over its every nook and cranny, including one that resembles the Chinese deity Guanyin! Marvel at the wall-clinging greenery that root and climb on Fairy Cave's glistening surfaces. The magical experience comes with a price, though — you'll have to climb a few steps to get to the cave's entrance. You'll be winded, but we promise it's worth it.
Speaking of getting winded, Bau boasts of another limestone cave that rivals Fairy Cave both beauty: the Wind Cave. Aside from limestone formations, you'll also get to witness the presence of Dusky Fruit Bats and Black Nest Swiftlets that have settled nicely in these parts of Sarawak. You might not get to see them inside the cave, but you'll certainly hear them scurrying about.
Fun fact: The Wind Cave is known for the cool wind that passes through its chambers, hence its name. You might not get to visit this year, though; both caves are undergoing a redevelopment project with Sarawak Forestry and will open next year.
If the Fairy Cave involves getting up several flights of stairs, the Wind Cave comes with its own challenge. Get ready to take on a 1,000-metre plant walk with very little lighting. Are you game?
10. Lambir Hills National Park