Gracie Veronica Geikie
Director / Principle Consultant
Gracie has more than 40 years' work and executive experience in the hospitality, tourism, marketing, hotel and event management industry allowing her to bring forth valuable input and advice in entrepreneurial business management concepts, operational restructures as well as research and survey analysis for the related fields of hospitality, tourism and marketing.
She holds an MBA major in Tourism & Hospitality Management as well as a Master in Business Administration. Gracie is a certified PSMB Trainer as well as a certified Professional Conference Management trainer for MACEOS. As a Tourism and Event Management Consultant and Trainer, her main areas cover bid documentations and workshop trainings, bid presentations, tourism related research, PCO management & operations and events management. Her business experience and career from 1975 till date have covered airline stewarding, hotel operations and pre-openings, travel and event operations, entrepreneurial set ups in education, tourism and hospitality. Gracie served in the Sarawak Government with the Sarawak Tourism Board as CEO (2005 to 2009) and Associate Dean of UCSI University Sarawak (2009 to 2014).
Gracie ran and owned her inbound and dive tour operations from 1998 till 2014 before selling her business to the Aiman Group where she was retained as Director and Principal Consultant till 2016. She is currently Adjunct Fellow with the Berjaya University College of Hospitality, Sarawak Chairperson for Malaysian Association of Conventions and Exhibitions Suppliers and Organisers (MACEOS), Head of the Tourism Committee of Sarawak Chamber of Commerce and Industry (SCCI) and Deputy Secretary General of Sarawak Business Federation (SBF). She is advisor, co-author and author of three books "Rainforest World Music Festival – Sarawak's Success Story", "Parks and Art Sarawak" and "Rainforest World Music Festival – 20 Years of Song and Rhythm in Sarawak".
She received her award 'Darjah Utama Yang Amat Mulia Pegawai Bintang Kenyalang Sarawak' (PBK) from the State in October 2014 and the 'Darjah Utama Yang Amat Mulia Johan Bintang Kenyalang' in September 2018 for her contributions to Sarawak tourism.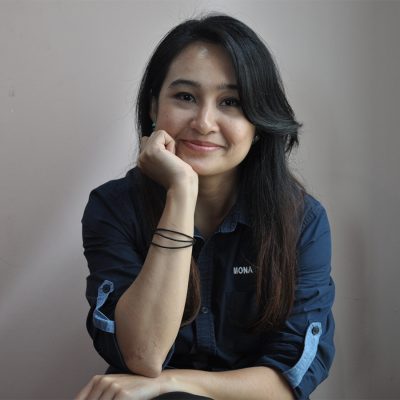 Mona is a marketeer by training and a birdwatcher by passion. Her experience ranges from door-to-door sales, high-school English teacher, marketing strategist in a bank, tour operator, and even a muffin-and-cookie maker in a cafe! Mona believes in and has passion for guerrilla marketing and inbound marketing. She claims she gets marketing ideas in the shower. When pried off work, she loves birdwatching, camping, reading, playing the guitar, listening to the Beatles, and anything to do with the VW Beetle. [Bachelor of Commerce in Marketing & Management – Curtin University of Technology, Perth, Western Australia] [Masters in Business Admin (MBA): Entrepreneurship – Excel College, Kuala Lumpur, Malaysia] [Professional Conference Management Course – SACEOS]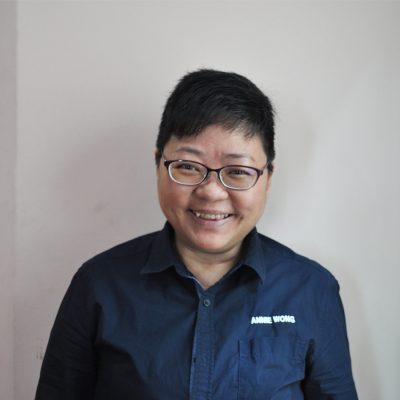 Annie Wong 黄碧明
Section Head of Admin
Annie started her career as a secretary in an international hotel and later venture into business events industry when Kuching's first convention centre was opened. She believes behind every successful event there must be a very committed team. Besides work, Annie enjoys outdoor activities such as diving, swimming and hiking. A recent hobby addition of hers is to travel around the world, to enjoy diverse cultural and local cuisine.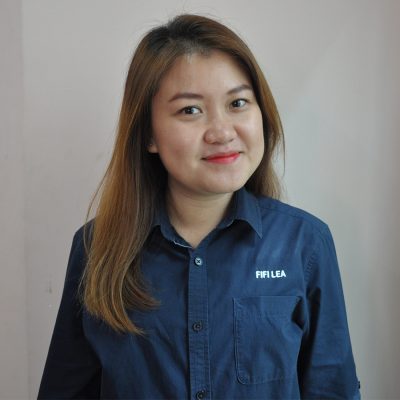 Fifi Lea Jaina
Section Head of Operations
Fifi is an event enthusiast who began coordinating events ardently at school. As her passion in events grew deeper, she pursued her degree in B.A (Hons) in Events and Tourism Management and has been working in the line ever since. She would go for hiking or travel during her free time and she feeds herself mainly with spicy food. Completed Professional Conference Management Course – SACEOS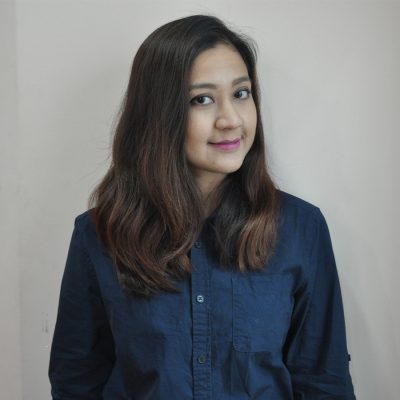 Sarah Abdul Manap
Section Head of Communications
Sarah is a part-timer at Place Borneo and also freelances as a PR writer and content editor. She loves cats and dogs and will talk to any stray animal she encounters. Her current passion is whipping up healthy plant-based food and baking the occasional sweet treat. She is happiest curled up on the couch at home with her husband, pet cat and a good movie!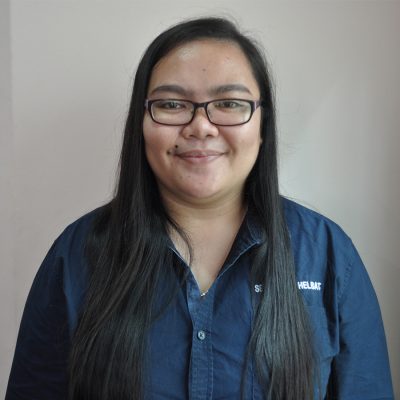 Selbenaide Helbat
Marketing & Sales Executive
She is firm yet caring. The office's obliged mother figure, Selbenaide or sometimes referred to as "Kak Sel", who majored in Arts Management, loves to work behind the scene and be a part of a team dedicated to creating successful events. On her off days, she likes watching dramas and movies, reading novels or travelling. Her motto in life is 'the journey of a thousand miles begins with one step'. Being a pluviophile, she reveled in the beauty of the rain. After a hard day's work, she would unwind by playing the sound of the rain through an app she installed in her phone and call the day off.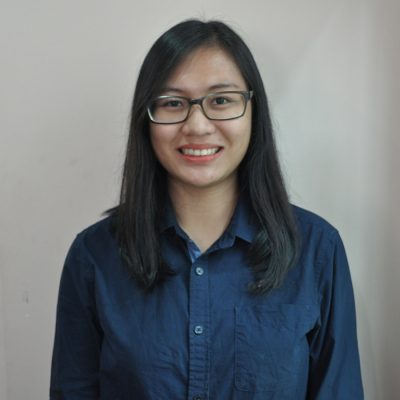 Carshena Emileen Gupen
Operations Executive
Carshena is an introverted oddball with a fixation on food. She majored in Arts Management and enjoys the roller coaster-like thrill of working behind the scenes of conferences and events. Despite the saying "curiosity killed the cat", the little child in her couldn't help but defy the notion, by always playing detective and conducting thorough research if she stumbles upon any intriguing subject matter relating to the industry. When she's not in the office or whooping war cry on-site, she's at home nose-deep in sci-fi or fantasy novels, wandering off into the magical plots of the books (she needs to get out of the house more often).
Eleodiana Rangai Sali
Marketing Executive
She is a proud mother of a bubbly two year old who dances cheerfully to any upbeat music that catches his ears. While earning her Bachelor of Business Administration (Honours) in Marketing, she was actively involved in a community project called Entrepreneurial Action Us (ENACTUS) whereby her team helped build awareness and education amongst young Penan students in Marudi on the opportunities in continuing their studies on the tertiary level, and this further inspired her to pursue a career in marketing. This project is close to her heart as she herself comes from the minority group of the Lun Bawang. Through this as well, while holding to her motto "Being inspired to inspire", she continues to deepen her knowledge and passion as a marketer.
She finds a sense of fulfillment by engaging in adventurous activities such as hiking and kayaking as for her, being able to face challenges to reach the destination teaches her to be more resilient and competitive. Though she enjoys being outdoors, she is no stranger to the domestic life as well. Saturday would be Pancake Day for her husband and son and then a movie or two to wrap up the day.
She has always been interested in numbers so naturally, she continued her studies in Diploma of Accounting at Kuching Polytechnic College. Regina started her career with a Chartered Accountant Firm and now she handles the accounts in Place Borneo. Despite being the enthusiastic virtual farmer on the e-game Farmville, she is beyond terrified of furry animals. Nevertheless, with the sharp focus of a cat, Regina diligently ensures that her work is done with precision, timeliness and accuracy.
He is a tech geek where he finds peace in himself when he has some PCs or Laptops to repair. He knows how to build PCs too! He is also a family guy. There is always time for him to be with his family. Weekend is perfect for a family gathering where he spends most of the time drinking and singing karaoke with his big family. He is a happy-go-lucky guy but takes his job seriously. He ensures everything is done perfectly.